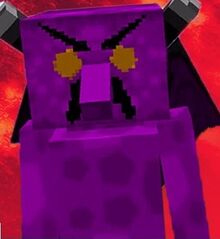 Lava Steve, first created in Crawl, Round 3, was also created, with a Lava Emporium, in Spore. Lava Steve's voice is acted by Price.
Appearances
Edit
In Crawl, as a creature in the world.
Later, and much more popularly, Lava Steve is the smal, red, skinny demon monster which attacks by placing lava on the floor for others to step in.
He is referenced in the Stumptlandia series, with Price and Jas saying it was a thing that only Portlandians would get.
He exists in the Shattered Skies series, living on a floating island which (formerly) had a hammock, a roll of toilet paper, and more space.
Trivia/Tropes/Catchphrases
Edit
Whenever Lava Steve is referenced, Price always says "Lava Steve's Lava Emporium; for all your lava needs."
He seems to have a crush on Jasmine.(Minecraft:Shattered Skies Ep 3)
Lava Steve's Lava Emporium is "Off Highway 217, on Shoalsbury Road, open Mondays through Friday till 8."